3 Reasons Why Baja Fresh® is a Great Franchise Opportunity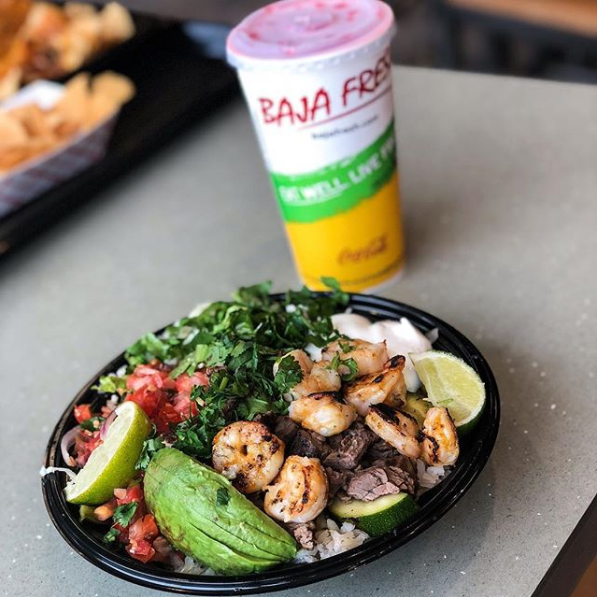 If you've been researching Mexican food franchise opportunities, Baja Fresh® is just what you've been looking for! We've been in business since 1990, and we've made a name for ourselves as a stand-out among restaurants and Mexican food franchise opportunities. If you're thinking of starting a restaurant of your own, there's never been a better time to invest in a Baja Fresh® franchise. Let's take a look at a few reasons to partner with Baja Fresh®!
#1. Mexican Food is More Popular Than Ever
Research shows that Mexican food is more popular than ever, making up about 8% of the restaurant landscape in the United States and coming in as the third most popular menu type among consumers! When we first opened, many American diners weren't familiar with authentic Mexican food. Many diners had only tried greasy, heavily-processed nachos, tacos, and burritos. Baja Fresh® franchise locations have always been different, offering a wide array of authentic Baja Mexican dishes. As the above market research shows, Americans today love Mexican food – especially without the wait! Our brand's fresh, Baja-inspired menu has always made us a stand-out among Mexican food franchise opportunities.
#2. We're Leaders in the Healthy Eating Trend
At Baja Fresh®, healthy and fresh eating has never been a trend. However, research shows that Americans are now prioritizing healthy and fresh food, and are willing to pay a higher price for more nutritious meals. Perhaps the factor that makes Baja Fresh stand out most among Mexican food franchise opportunities is the extreme measures we take to help ensure meals are the freshest around. We don't rely on techniques like freezing, canning, or dehydration to prepare our meals quickly. We take our time, offering made-to-order entrees, fresh salsa prepared daily, and more. In fact, our franchisee's restaurants don't even have can openers or microwaves! We've always valued high-quality meals made from the best ingredients, and America's growing interest in healthy eating makes now a better time than ever to invest in a Baja Fresh® franchise.
#3. We Support Our Franchisees
If you've been researching Mexican food franchise opportunities, you've probably realized that not all franchisors are created equal. Baja Fresh® stands out because of the comprehensive training and support we offer our franchisees. While a background in food service will surely be helpful as you learn our brand's system, it's not necessary for our franchisees to come from careers as restaurateurs.
You'll spend six to eight weeks in training. You'll spend time completing classroom learning at the Kahala BrandsTM Training and Education Center, learning the basics of operating a Baja Fresh® franchise. Next, you'll put your skills to use by getting hands-on experience in a fully-functional Baja Fresh® restaurant. Finally, we'll join you on-site at your location, helping you to apply everything you've learned right in your own restaurant. We're also there to provide you with purchasing and marketing support as you grow your business!
These are just a few reasons that Baja Fresh® stands out from other Mexican food franchise opportunities. Contact us today to learn more about opening a Baja Fresh® franchise of your own!
©2018 BF Properties, LLC All rights reserved. All other trademarks referenced are property of their respective owners. The information provided herein is for informational purposes only and is not intended as an offer to sell, or the solicitation of an offer to buy, a franchise; nor is it directed to the residents of any particular jurisdiction within the U.S. or elsewhere. The following states currently regulate the offer and sale of franchises: CA, HI, IL, IN, MD, MI, MN, NY, ND, RI, SD, VA, WA, and WI. If you are a resident of one of these states, or of a jurisdiction that has similar requirements, we will not offer you a franchise until we have completed the applicable registration or obtained the exemption from registration, and completed the applicable disclosure requirements. Regardless of what state you reside in, an offering can only be made by a franchise disclosure document.