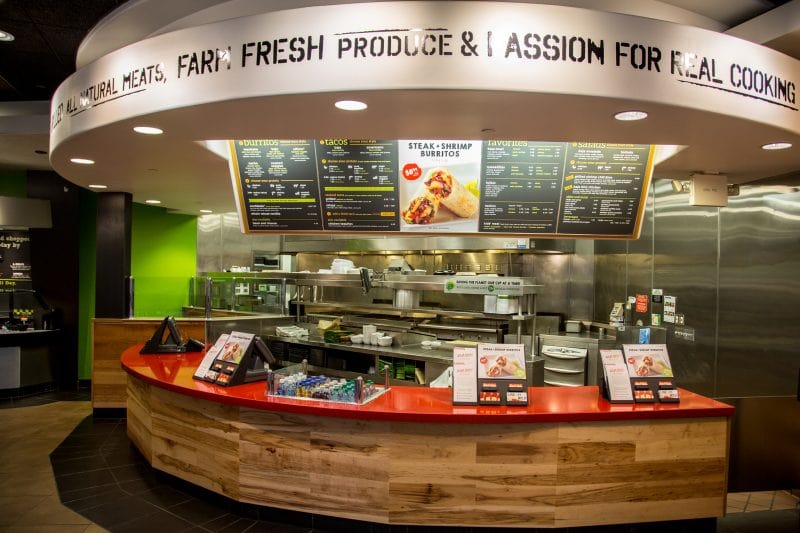 There's nothing more exciting than opening a healthy Mexican food franchise like Baja Fresh. However, many investors worry they're biting off more than they can chew. With more than 25 years in the industry and more than 150 Mexican restaurant franchises around the world, the Baja Fresh franchise development team knows what it takes to get your business off to a great start.

Baja Fresh Mexican food franchise owners benefit from executive-level pre-opening assistance, along with ongoing support from our brand's experienced; and enthusiastically helpful team. From the moment, Baja Fresh awards a franchise, our brand's development experts are there to aid franchise owners with the setup of their new Mexican food franchise restaurant.
Pre-opening support for your Mexican food franchise
To get started, the Baja Fresh development team assists new franchise owners in locating a site for their new food franchise restaurant. Baja Fresh considers several factors in site selection; to assist each franchisee launches their restaurant in a locale and a facility that helps position them for growth. Here's what franchisees will consider and discuss with the Baja Fresh support team:
• General location and neighborhood
• Traffic patterns
• Parking availability
• Square footage
• Existing building characteristics
• Lease terms
Site selection advisement is a critical part of initial assistance, because the Baja Fresh® team understands that location dynamics can assist franchisees restaurants.
Once franchisees settle on their site, the Baja Fresh franchise team assists with building designs and layout specifications. Franchise owners can choose from the classic Baja Fresh black-and-white style or the trendier new design featuring warm woods and a tech bar. The specifications will include fixtures, equipment, furnishings, décor, trade dress and signs. Once Baja Fresh franchise owners finalize their full interior design plans, the development team representative will review and offer final suggestions.
Grand opening assistance supports a great business kick-off
Support offered by Baja Fresh's Mexican restaurant franchise program truly stands out among the industry. As franchise owners anticipate the opening of their new restaurant, working on the last-minute details, two members of the Baja Fresh Opening Assistance Team will be on-hand for brand requirement advice and support.
These two experienced team members stay on-site during the week leading up to the opening of your Baja Fresh franchise restaurant and an additional week after the grand opening. During this time, they'll offer support and advice, and also review the grand opening — what went well, what needs improvement and what possible strategies to use moving forward.
Support for Mexican restaurant franchise owners continues
The stellar support offered by the development team doesn't stop at the grand opening, but continues as Baja Fresh Mexican food franchise owners grow their operations, one delicious taco at a time. Baja Fresh responds to ongoing franchisee requests for assistance and advice. The team will offer feedback on the performance and operation of the healthy food franchise store, strategizing ways for franchise owners to help maximize their potential. At times, a field representative may visit the restaurant to observe operations.
Baja Fresh takes supporting the franchise owners to the next level by offering employee training assistance. Baja Fresh owners may request a field representative visit of their restaurant to consult with and/or help train their supervisorial or managerial personnel.
Don't start a Mexican food franchise without the right support
Choose Baja Fresh® franchise for the industry support available. Send us a message to learn more about how to get started.
©2017 BF Properties L.L.C. All rights reserved. All other trademarks referenced are property of their respective owners. The information provided herein is for informational purposes only and is not intended as an offer to sell, or the solicitation of an offer to buy, a franchise; nor is it directed to the residents of any particular jurisdiction within the U.S. or elsewhere. The following states currently regulate the offer and sale of franchises: CA, HI, IL, IN, MD, MI, MN, NY, ND, RI, SD, VA, WA, and WI. If you are a resident of one of these states, or of a jurisdiction that has similar requirements, we will not offer you a franchise until we have completed the applicable registration or obtained the exemption from registration, and completed the applicable disclosure requirements. Regardless of what state you reside in, an offering can only be made by a franchise disclosure document.