Why Diversify Your Franchise Portfolio?
Ask any business advisor or entrepreneur, and they'll tell you not to put all your eggs in one basket, so to speak. As a franchisee with Baja Fresh, that means diversifying your portfolio with a variety of reputable brands that offer products or services that are always in demand. Diversifying your franchise portfolio helps you prepare for the future, reduce risk, and establish a solid financial foundation to help you weather unforeseen changes in the economy.
When considering which brands to invest in, multi-unit franchise operators should look at businesses that complement one another and do not compete, are not all within the same category of products or services, and offer customers something that is always in high demand. Given the growing popularity of the Mexican restaurant industry and desire for fast-casual dining establishments that offer healthier options, a fast-casual Mexican eatery like Baja Fresh™ can make a great addition to a franchise portfolio.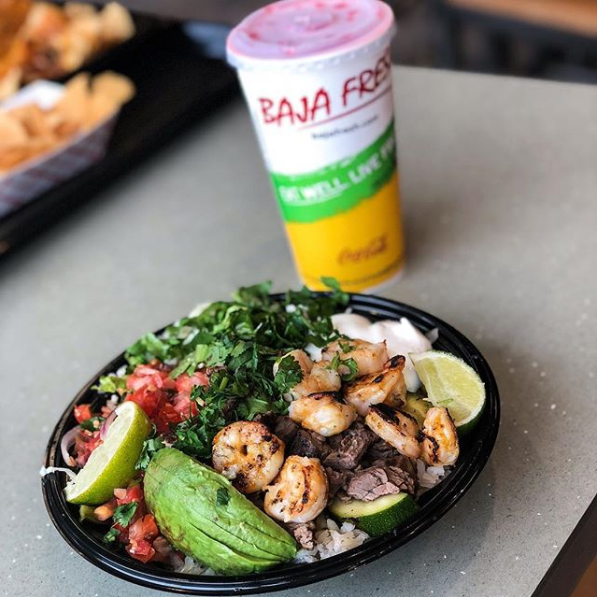 Grow Your Franchise Portfolio with Baja Fresh
With a brand reputation built over more than 30 years, exceptional training and support services, and a unique concept that stands apart in the quick-service Mexican restaurant industry, Baja Fresh can help you diversify your franchise portfolio with low risk. The Baja Fresh philosophy of "Eat Well. Live Fresh." is one that caters to an increasingly health-conscious public that's seeking food made fresh, from quality ingredients. Baja Fresh is unique in that its menu provides two things that are both in high demand among consumers today: Mexican fare, and food options on the healthier side.
Baja Fresh proves that quality food doesn't have to come at a high price, making it a popular choice among consumers who frequent fast-casual Mexican restaurants and an optimal choice for potential franchisees looking to capitalize on this growing market. The franchise offers a variety of delicious, healthier options on its Baja-inspired menu, including a selection of burritos, tacos, salads, quesadillas, and more. Fresh produce, all-natural meats, slow-cooked black beans, and house-made tortilla chips are what customers will find at this quick-service franchise. It's quality, without the wait.
Baja Fresh is a franchising opportunity that can be suited for entrepreneurs of all backgrounds and experience levels, including those who don't have any prior restaurant experience. Passion and dedication is all you need to start franchising with Baja Fresh. The franchise support team can teach you the rest.
Brand Recognition
Launching a new and unknown business can have rewards, but also a high risk factor – a new business doesn't have the brand recognition that an established franchise benefits from. By investing in Baja Fresh, you're investing in a brand name that has been developed and cultivated over the course of more than 30 years. With that brand recognition comes a solid foundation of customers who already know and love the Baja Fresh menu and concept.
A well-developed franchise like Baja Fresh can be a great addition to a franchisee's portfolio, particularly for an investment that comes with the assurance of a built-in customer base. Baja Fresh has built its reputation by going above and beyond in its commitment to the freshness of its food and the quality of its customer service, so it's not hard to understand why Baja Fresh is a standout in the fast-casual Mexican food industry.
Proven Business Model
Baja Fresh has a solid base of loyal customers and has grown into a leading Mexican fast-casual restaurant franchise over the past 30 years. One of the reasons is that the franchise business model is simple, and it works. Entrepreneurs who franchise with Baja Fresh are able to meet consumer demands and provide customers with what they want thanks to a business model built on flexibility, ease of operation, and quality training and support.
While some quick service brands rely on freezers and microwaves and offer menu items made from precooked and prepackaged ingredients, the Baja Fresh philosophy revolves around food made fresh and in house, using only the highest quality ingredients. Because Baja Fresh values quality, the franchise is rapidly growing, with viable markets for new locations across the nation.
Ongoing Support
Entrepreneurs can count on comprehensive training and support, both initially and throughout the life of their business, when they franchise with Baja Fresh. Part of what makes Baja Fresh's support system so unique is the franchise's relationship with Kahala Brands™, one of the world's fastest growing franchising companies working with more than two dozen quick-service restaurant brands with locations around the world. Kahala Brands prides itself on its in-house, seasoned team of experts available to help franchise partners with everything from real estate selection and franchise development, to marketing strategy and creative services. The Kahala Brands team is there to help all franchisees achieve the highest profit potential and reach their business goals.
Franchise with Baja Fresh Today
Baja Fresh offers entrepreneurs a unique franchising opportunity: Baja Fresh has a recognized brand name, a proven business model, solid franchise support and a product in high demand. Find out how you can partner with Baja Fresh today and bring this popular fast-casual franchise to your community by visiting the franchise research pages here.
You can also get a conversation started with a member of the Baja Fresh team by filling out our form here to receive more information about the franchise opportunity.