Investing in a franchise is often a great way to break into a new industry with the guidance and expertise of industry leaders. However, with all of the franchise options you have to choose from, breaking into the fast-casual sector is a particularly good choice in today's economy. Fast-casual restaurants like Baja Fresh franchises have gotten more popular in recent years, meaning there's plenty of room for our investors to grow their capital. Let's take a closer look at this exciting opportunity.
Fast-Casual Restaurants are More Popular Than Ever
If there's one area of the restaurant industry to watch, experts know it's the fast-casual sector. What is fast casual? Simply put, it's food that you can order and enjoy quickly, like a fast food. However, unlike traditional fast food, fast-casual restaurants often feature a higher-quality menu. These restaurants are growing in popularity because diners love that they can enjoy high-quality food on-the-go. Baja Fresh franchises fit this description perfectly. With a variety of location types, we make it easy for diners to stop in to enjoy a quick meal. Best of all, our dedication to freshness means that our menu stands out from the competition.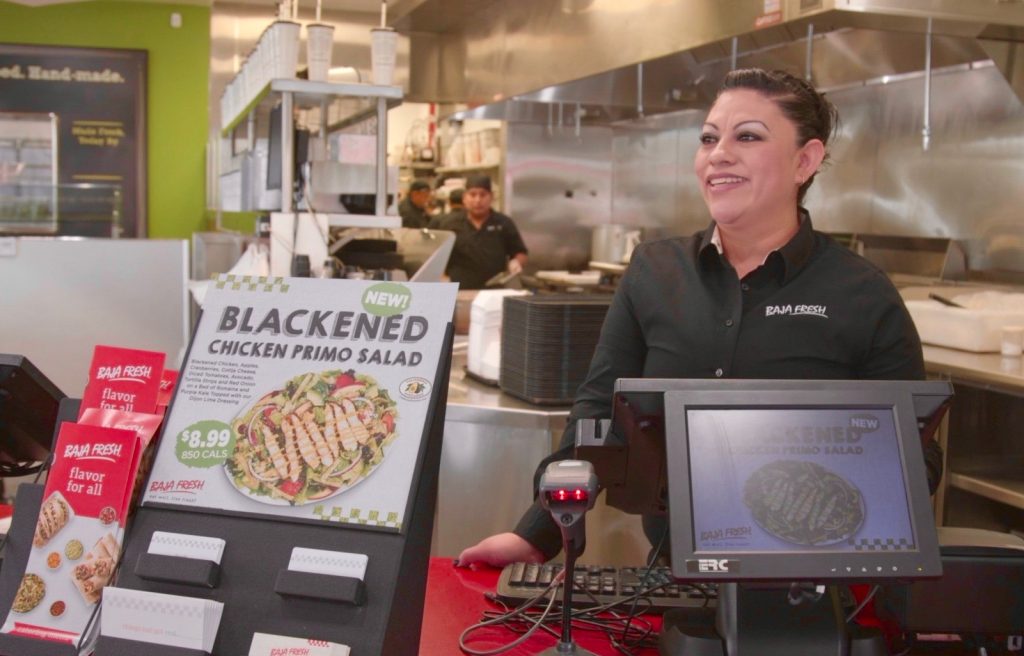 Investing in a Franchise to Break into the Fast-Casual Business
Investing in a Baja Fresh franchise is a great way to take advantage of this trend. Franchising with Baja Fresh comes with many perks that makes the process of owning and operating your business much simpler than going it alone. For instance, we'll provide you with valuable support as you work towards opening your doors. Whether it's help with site selection (through our trusted real estate partners) or teaching you the ins and outs of the business in our comprehensive training program, you never need to worry about going it alone with Baja Fresh. We've spent years developing a highly-efficient business model, along with valuable relationships with our suppliers, for the benefit of our franchisees. Why do it all yourself when you can partner with us and enjoy these (and more) great benefits?
We Stand Out from the Fast-Casual Crowd
Baja Fresh is a great franchise to partner with for many reasons, not the least of which is the unique menu we have to offer. Our Baja-inspired cuisine stands out from the traditional Mexican offerings in the industry. We put freshness first – our restaurants don't even have can openers or microwaves! Salsa made fresh daily, line-caught fish, and proprietary menu items like Baja Bowls® are just a few of the things that make us unique. One of the reasons people love fast-casual food is the difference in quality from traditional fast-food. Since we don't rely on reheated, canned, greasy ingredients, our customers can taste the difference, which is great news for our franchisees. If you're thinking of investing in a franchise, choose a franchisor who stands out from the crowd and who has already developed a reputation for great food without the wait!
Buying a Baja Fresh franchise is a great way to break into the booming fast-casual industry. Learn more about what makes Baja Fresh unique on our website!
©2018 BF Properties, LLC All rights reserved. All other trademarks referenced are property of their respective owners. The information provided herein is for informational purposes only and is not intended as an offer to sell, or the solicitation of an offer to buy, a franchise; nor is it directed to the residents of any particular jurisdiction within the U.S. or elsewhere. The following states currently regulate the offer and sale of franchises: CA, HI, IL, IN, MD, MI, MN, NY, ND, RI, SD, VA, WA, and WI. If you are a resident of one of these states, or of a jurisdiction that has similar requirements, we will not offer you a franchise until we have completed the applicable registration or obtained the exemption from registration, and completed the applicable disclosure requirements. Regardless of what state you reside in, an offering can only be made by a franchise disclosure document.