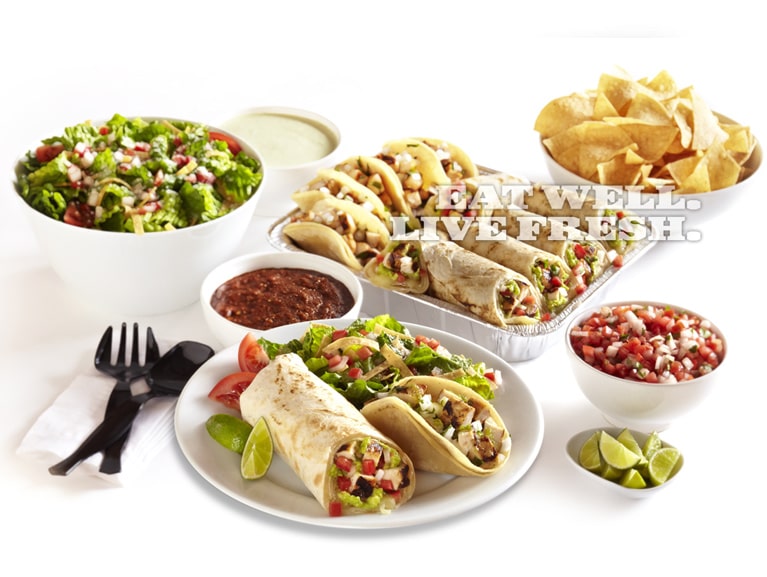 From the very beginning, the Baja Fresh franchise has stood above its competitors within the Mexican restaurant franchise market. From the brand's conception, the founders realized the company stood for something new, that it was a departure from typical fast-food Mexican options. Baja Fresh is a unique company whose reputation stands out among customers and franchisees alike.
When it comes to food quality, menu options and startup costs Baja Fresh competitors aren't really competition for the fast casual franchise:
Qdoba®
Like Baja Fresh, Qdoba also advertises fresh ingredients on its menu of Mexican-style items. But it doesn't actively promote itself as a healthy fast casual franchise option. In an age where more consumers are increasingly concerned not just with food quality but with their health, having fresh ingredients is just the beginning. Baja Fresh's dedication to high-quality ingredients is a true mark of distinction. Unlike many competitors, our brand's franchised stores avoid processed foods, and instead focus on farm fresh ingredients to create every taco and burrito.
Now consider, the cost for a Baja Fresh franchise is $357,560 – $750,040 vs. Qdoba's $871,000 to $2,034,000.
Del Taco® 
Del Taco is even more Americanized than Qdoba. This franchise advertises American-style Mexican food, which suggests the American trumps the Mexican, and authenticity in taste matters to consumers. There are shakes, burgers and fries on the company's menu among other non-traditional Mexican food items. Whereas Baja Fresh Mexican food franchises offer a wide menu variety; featuring the fast casual franchise's famous flame-grilled flavor and unique grilled tortillas.
A Del Taco franchise will cost potential investors: $859,700 to $2,016,500
Chipotle®
Chipotle isn't a franchise, but from a consumer perspective it can be considered a competitor of sorts. The company advertises real ingredients and food with integrity, but its menu isn't nearly as expansive as Baja Fresh. The taco franchise's ever-expanding menu keeps customers coming in. From taquitos to tortilla soup, and queso dip to fresh-chopped salads, Baja Fresh stands apart from Mexican franchise restaurant competitors with abundant, healthy and authentic menu options, and that's what consumers want – choice. In a survey conducted by Technomic®, only 4 percent of respondents said they wished fast casual chains would decrease the size of their menus, while almost 30 percent reported wanting a larger menu.
Taco John's®
Taco John's advertises Mexican-inspired fast food. That fast food designation is important for a potential fast casual franchise owner to consider. Fast food's main claim to fame is that it's affordable. Fast food is affordable because it doesn't prioritize fresh ingredients, and the quality of the food often reflects that.
A Taco John's franchise will cost potential investors: $942,000 to $1,381,000
On the Border®
On the Border advertises Tex-Mex inspired fast food, which presents the same problem. Again, fast food's primary selling point is its affordability, not its concern for healthy food options. The chain advertises a gluten-friendly menu and vegetarian menu items, but it also states that "we are unable to guarantee that any menu item can be completely free of poultry, meat or fish products." According to a poll from the Consumer Business Practice of Deloitte & Touche, 83 percent of consumers surveyed believed that restaurants should offer more healthy food choices. In addition, two-thirds reported feeling concerned about eating genetically modified foods, and more than half thought that portion sizes at restaurants were too large. Thanks to a Live Fresh philosophy, Baja Fresh® can mix consumer preferences for quality ingredients into every element of our brand's taco franchises around the world.
An On the Border franchise will cost potential investors: $112,600 to $243,200
Opportunities abound for Baja Fresh® Mexican restaurant franchises
Thanks to Baja Fresh's unique offerings, taco franchise opportunities with the company are sprouting up rapidly across the states — and internationally, as well! What is the reason for these wide opportunities for development? Franchise business growth is accelerating at a rate far above non-franchise businesses, contributing a 3.1 percent growth in jobs to the national economy, according to the International Franchise Association.
With opportunities for both multi-unit ownership and area development for Mexican food franchises in every state, Baja Fresh is open for franchisees on a national scale. Living in California, Arizona, or Texas? Your home state might be particularly good for a Baja Fresh franchise due to particular interest among local consumers. Thanks to unparalleled customer service and quality, Baja Fresh has even expanded internationally, with locations in Dubai and Singapore.
Join the best Mexican restaurant franchise in the country
These are just a few differences between Baja Fresh and its competitors. The well-developed franchise system allows for both single-unit ownership and multi-unit investment opportunities. If you're interested in owning your own Baja Fresh, contact us today.
©2017 BF Properties L.L.C. All rights reserved. All other trademarks referenced are property of their respective owners. The information provided herein is for informational purposes only and is not intended as an offer to sell, or the solicitation of an offer to buy, a franchise; nor is it directed to the residents of any particular jurisdiction within the U.S. or elsewhere. The following states currently regulate the offer and sale of franchises: CA, HI, IL, IN, MD, MI, MN, NY, ND, RI, SD, VA, WA, and WI. If you are a resident of one of these states, or of a jurisdiction that has similar requirements, we will not offer you a franchise until we have completed the applicable registration or obtained the exemption from registration, and completed the applicable disclosure requirements. Regardless of what state you reside in, an offering can only be made by a franchise disclosure document.