If you're thinking of investing in a Baja Fresh® Mexican franchise, you've identified a great way to start an exciting new career in a popular industry. Baja Fresh is a well-established brand with years of experience both satisfying customers while helping new franchisees get off the ground. When you collaborate with Baja Fresh, you receive help through the process of opening your restaurant every step of the way. One of the most important steps in the process is finding just the right location for your new Mexican franchise. We'll work with you to analyze demographic data in order to find the right spot. If you're thinking of starting a Baja Fresh restaurant, here are a few things to keep in mind about finding the right location.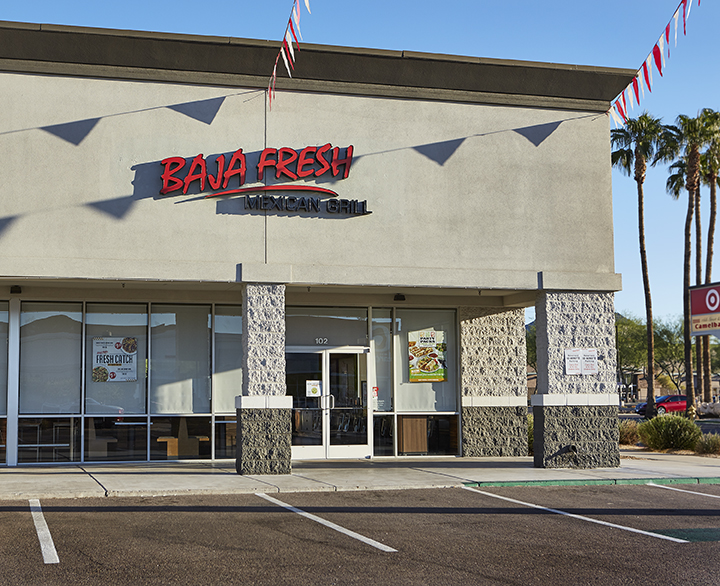 #1. Keep the Mexican Franchise Competition in Mind
When you open any new business, it's important to take note of the competition in the area. You want to open a restaurant that's centrally located in an area with plenty of traffic. However, opening your Mexican franchise right next to a similar restaurant may have disadvantages. Customers will need to make tough choices that don't always come out in your favor. When you become a Baja Fresh franchise owner, we will work with you to open in an area that's advantageous to you and your franchise.
#2. Decide on a Concept
Baja Fresh gives its franchisees choices when it comes to deciding on a concept. You can decide if you'd like to open a traditional or Baja Fresh Express® Mexican franchise. Our traditional locations are larger, with inviting patios and contemporary designs. Some diners like to take their time and enjoy their meals in a comfortable and relaxed full-size restaurant, while others want something to go. Express locations are set up for the diner on-the-go and are typically found in non-traditional venues such as airports, hotels, universities, food courts, and so forth. With limited seating and an overall smaller size, express locations are perfect for diners who are looking to grab a quick bite to take with them. Deciding on the right concept is a must for Baja Fresh franchise owners, and the concept you choose will greatly impact the type of location you settle on in both size and geography.
#3. Use Our Real Estate Expertise to Find the Best Deal
It's important that you find the right location for the right price when you open a Baja Fresh Mexican franchise. If you're new to business ownership, you might be intimidated by the idea of finding a location and negotiating a lease. That's where we come in! We know just what to look for in a new lease, and for a small fee, we can help you decide which location will be the best fit for your restaurant. We have a vast network of contacts in real estate and can put you in touch with them to help you find your ideal restaurant location. With our help, you'll be able to sign your lease with confidence that it's the best possible fit for your new business.
These are just a few things to keep in mind when you open a Baja Fresh Mexican franchise. Learn more about how we help our franchisees to find just the right location – contact us today!
©2018 BF Properties, LLC All rights reserved. All other trademarks referenced are property of their respective owners. The information provided herein is for informational purposes only and is not intended as an offer to sell, or the solicitation of an offer to buy, a franchise; nor is it directed to the residents of any particular jurisdiction within the U.S. or elsewhere. The following states currently regulate the offer and sale of franchises: CA, HI, IL, IN, MD, MI, MN, NY, ND, RI, SD, VA, WA, and WI. If you are a resident of one of these states, or of a jurisdiction that has similar requirements, we will not offer you a franchise until we have completed the applicable registration or obtained the exemption from registration, and completed the applicable disclosure requirements. Regardless of what state you reside in, an offering can only be made by a franchise disclosure document.