World-Class Franchise Training and Support Right at Your Fingertips
If you've been thinking about opening a healthy fast food franchise, you probably have a lot of questions about the type of training and support you can expect to receive. When it comes to helping you as you grow your business not all franchisors are created equal. Baja Fresh has developed a comprehensive training and support program after decades in business.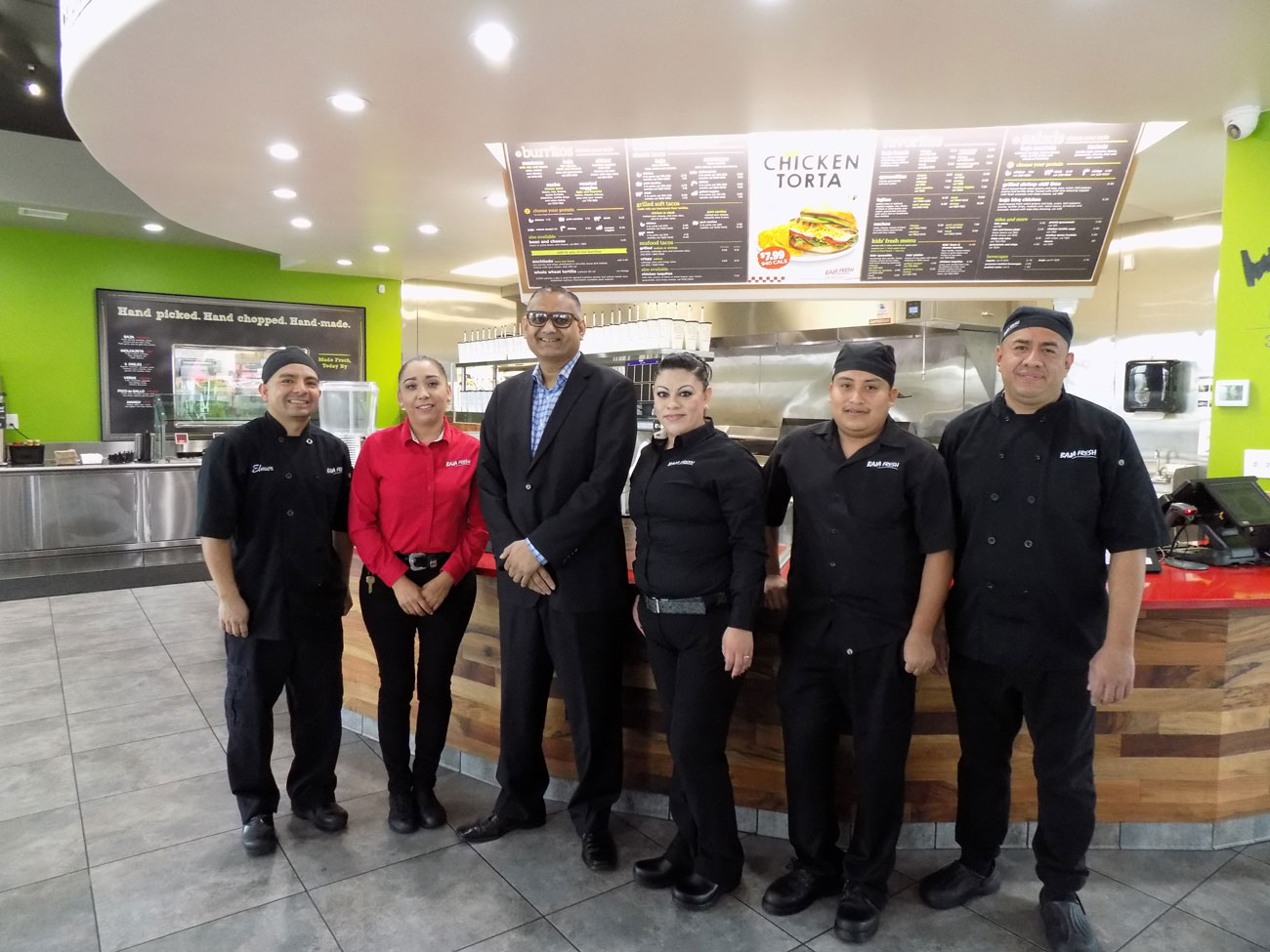 Investing Our Time in You
When you become a Baja Fresh franchisee, we'll dedicate our time and resources to helping you build up your new business. You'll spend six to eight weeks training at one of the accredited locations. During this time, you'll learn how to run your franchise. From preparing our renowned menu items to completing bookkeeping tasks and completing sales with our POS programs, you'll learn everything you need to keep your restaurant running smoothly. We'll even send our expert personnel to your new location to help you get set up and to apply what you learned in your training. With our help, it's easier than ever to get your new franchise started with confidence.
Of course, the time our brand team spends with your restaurant doesn't end after eight weeks. We work hard to make ourselves available to our franchisees to answer their questions as they arise. We'll also regularly stay in touch about new and improved menu items, policies and procedures, professional development opportunities, and more.
Well-Established Vendor Relationships
One of the key ways we support our franchisees is by helping them to maximize the vendor relationships we've developed over the years. High-quality food is the hallmark of every Baja Fresh restaurant, and it's not easy to come by the ingredients we rely on at great prices. One of the major obstacles of running a healthy fast food franchise is finding great sources of line-caught fish, farm-fresh vegetables, and the other staples you rely on for your menu. We support our franchisees by helping them to access the inventory they need from our trusted suppliers. This helps our franchisees to keep their restaurants well-stocked without needing to worry about shopping around for the best deals on meats and produce.
Strong Brand Support
One of the most significant benefits of opting to franchise as opposed to starting a restaurant from scratch is that you don't need to do it all on your own. Baja Fresh works to keep our brand strong through promoting our "Eat Well. Live Fresh." message. Our brand's corporate promotions will help to keep the buzz going about what our franchisees have to offer at their locations. Furthermore, our decades of experience have helped us develop a strong reputation that works to our franchisees' advantage as they work to establish a new customer base.
Contact us today to learn more about the process of becoming a franchisee, and how we can help you to own your own healthy fast food franchise.
©2018 BF Properties, LLC All rights reserved. All other trademarks referenced are property of their respective owners. The information provided herein is for informational purposes only and is not intended as an offer to sell, or the solicitation of an offer to buy, a franchise; nor is it directed to the residents of any particular jurisdiction within the U.S. or elsewhere. The following states currently regulate the offer and sale of franchises: CA, HI, IL, IN, MD, MI, MN, NY, ND, RI, SD, VA, WA, and WI. If you are a resident of one of these states, or of a jurisdiction that has similar requirements, we will not offer you a franchise until we have completed the applicable registration or obtained the exemption from registration, and completed the applicable disclosure requirements. Regardless of what state you reside in, an offering can only be made by a franchise disclosure document.