Big Demand in the Mexican Food Industry
The research is plain: Mexican food is in high demand, and it's only growing in popularity among American diners. The Mexican restaurant sector in the United States was estimated at approximately $72 billion in 2021, and has shown a steady increase over the past 10 years, with the exception of 2020, due to the pandemic. According to Statista, the sector was forecast to reach a value of over $76 billion in 2022, and research shows the Mexican food industry will only continue on its upward trend.
Mexican fare accounts for at least 9% of American restaurants, which makes Mexican-style menus the second-most popular type in the U.S., even more popular than pizzerias and hamburger restaurants. In short, Americans love their Mexican food, and it's a lucrative market for prospective business owners looking to invest in an industry that has shown increasing growth.
Baja Fresh Meets the Demand
If you're thinking of investing in the Mexican food industry, Baja Fresh can be the way to go. Baja Fresh meets the consumer demand for more Mexican food – as well as the growing demand for healthier food options. Unlike other franchises, Baja Fresh makes its Mexican fare in-house with quality ingredients including all-natural, line-caught fish, farm-fresh produce delivered at least twice a week, avocados loaded with healthy fats, and slow-cooked black beans. While other Mexican restaurants are known for greasy, fried, and cheese-laden menu items, customers know that at Baja Fresh, they'll be getting fresh, quality food that hasn't been reheated, frozen, or taken from a can.
Baja Fresh offers a wide array of Baja-inspired Mexican dishes that include our famous Baja Burrito, Baja Bowls, tacos, taquitos, quesadillas, fajitas, nachos, tortilla soup, salads, and more – all made in house.
With a passionate focus on freshness, Baja Fresh is an industry leader when it comes to fast-casual Mexican food that's both delicious and healthy, and we've built a brand that stands out from the competition. We provide our customers with food that's served up fast when you're on-the-go, made with fresh ingredients, satisfies the craving for Mexican-style fare and won't break the bank.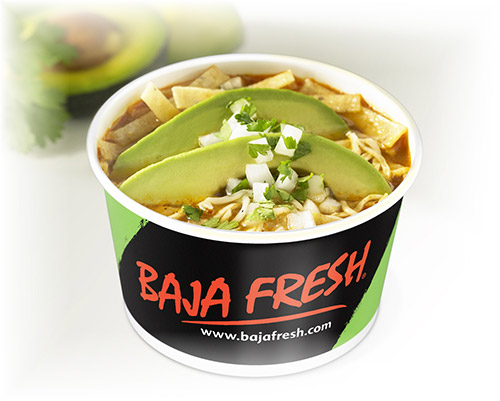 Why Invest in a Mexican Food Franchise?
We already know the demand for Mexican food is strong and only increasing in popularity, but why invest specifically in Baja Fresh? With low startup costs, excellent marketing support, a proven business model and time-tested brand, Baja Fresh is a prime opportunity to break into the fast-casual Mexican food market.
Baja Fresh values its brand name, which was built on high-quality, fresh food. Unlike other fast food franchises that cut corners and use prepackaged ingredients, Baja Fresh provides menu items made fresh and in-house – proving it's possible for food to be both fast and healthy.
Opening your own Baja Fresh is also a much less expensive business venture compared to other franchises, with the cost to open a single restaurant in the range of $310,310 to $1,033,290. You'll also receive initial and ongoing training throughout the life of the franchise, as well as marketing support to boost your bottom line and draw in new customers.
Always Supported in Business
Baja Fresh has been in business since 1990, and we want our franchisees to be as equipped as possible to run an efficient business, keep serving up delicious and quality fast-casual Mexican food, and honor the 30-year-old Baja Fresh brand.
As long as you're a Baja Fresh franchisee, you can count on ongoing support from seasoned professionals to help you achieve your entrepreneurial goals, grow your business, and give customers a quality experience. The Baja Fresh team is here to support you in developing your business model, implementing policies and procedures, and other aspects of opening and operating a Baja Fresh in your community.
Baja Fresh offers franchisees brand support as well as marketing assistance across a wide range of channels to raise brand awareness and keep customers coming through the doors. The Baja Fresh team also helps with establishing vendor relationships to make sure franchise owners are getting the best prices and customers are getting the freshest, quality ingredients that set the Baja Fresh menu apart from the rest.
Learn More about Franchising with Baja Fresh
There's no better time to invest in a Mexican food franchise with a 30-year-old brand customers know and love. If you're ready to take the next step and learn more about how you can become a Baja Fresh franchise owner, visit our franchise research pages here for more information about the brand and the rapidly growing market for Mexican food.
You can also request a free Franchise Information Report by filling out our form here. You'll receive information about startup costs and answers to frequently asked questions from a Baja Fresh representative. We look forward to hearing from you!